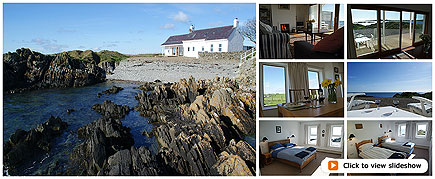 Flora Cottage: Two Bedrooms, sleeps 4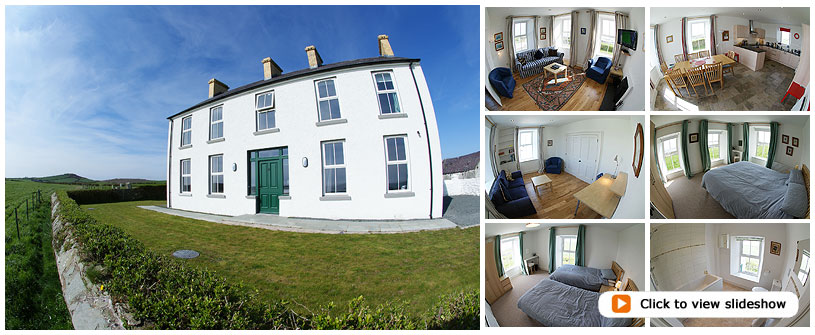 Millin House: Four Bedrooms, sleeps 8
Flora Cottage - Three miles from the town of Portaferry you drive east for around five minutes and you could be forgiven for thinking you have entered another world. This is a beautiful, tranquil part of County Down that will have you coming back frequently.
Flora Cottage (a two bedroom home) enjoys a dominant privileged position on Millin Bay. The views are outstanding and unrestricted with the sea and the sky meeting to form your horizon.
Being in such an environment means that you are immersed in nature. Apart from badgers, hares and the ability to bird spot on the retreating tide, seals can also at times be seen frolicking not far off shore.
Flora Cottage enjoys a privileged location on the sea edge with private beach. Waking up to the sea yards from your door can only have you wishing to stay for another week. The environment is unqiue and conducive to reflection and creativity, the perfect place for artists and painters.
Millin Bay House - This detached refurbished farmhouse sits at the head of Millin Bay looking at the Isle of Man. This 4 bedroomed house sleeps 8 and is ideal for children. The kitchen dining room seats everyone but you can divide the sitting room into 2 if you want. The sandy beach is just down the drive and across a very quiet road – lots of rock pools to fish in; rocks to climb and a long slow sandy beach into the sea.
No light or noise pollution so loads of wildlife. Three miles from Portaferry for supplies and under an hour to Belfast. A ferry ride to Strangford to CastleWard for Game of Thrones magic